Every business owner shares one constant issue – late invoice payments and its consequences. Dealing with slow paying customers can be difficult, time consuming and can also cause cash flow issues. Prompt payments is vital to keep your business running smoothly.
Here's a painful stat: According to a recent study, 82% of business fail due to cash flow issues.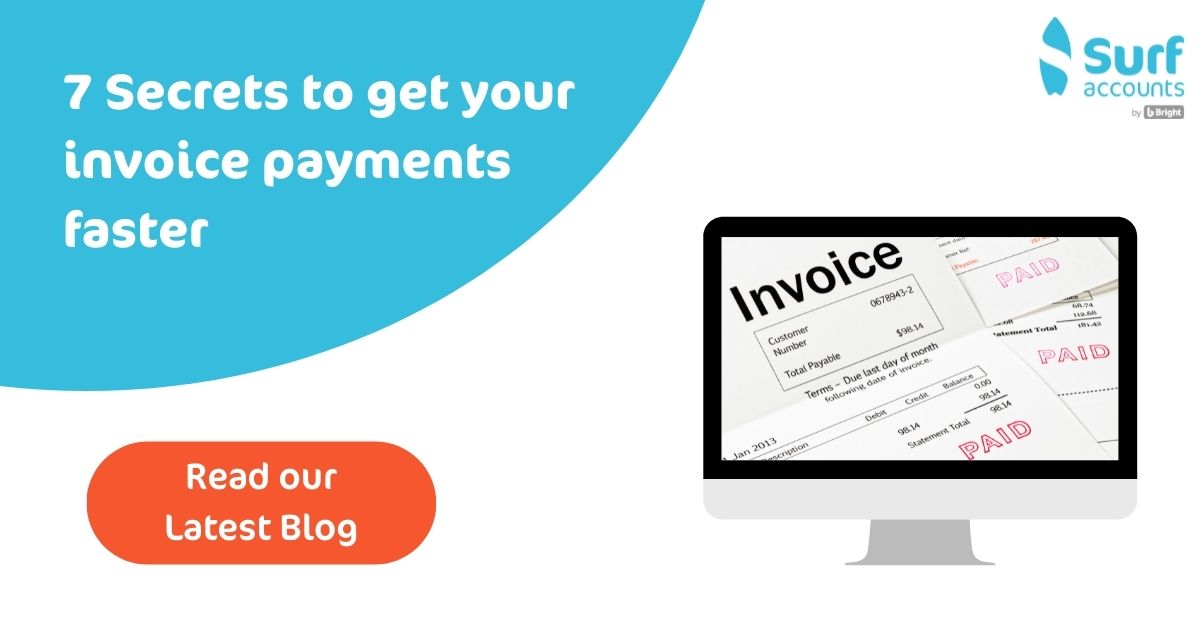 What can you do to get your clients to pay on time? To help you with this, we're revealing 7 simple secrets that that will encourage your clients to pay their invoices by the due date or even ahead of time.
Send invoice immediately to increase cashflow

The sooner you send out invoices to your client, the quicker you can get paid. If possible, send the invoice as soon as the products are delivered, or the project is completed. Invoicing straight away drives a sense of top priority. A late invoice may send the wrong message to the customer, that you are unconcerned with receiving quick payments, and this could result in delayed payments. Make sure your invoice clearly states the list of products and services you have provided to the client, your contact information, and payment terms. You can use an invoicing software provider to automate your invoicing process and to ensure mistakes aren't made.

Send payment reminders

If your client hasn't paid by the due date, assume they have simply forgotten to settle the payment. Outstanding invoice payments can be stressful. The best way to follow up on an overdue invoice is sending a gentle reminder by e-ma il with the help of an invoicing software. Continue to follow up regularly , until your payment is settled. One of the perks of an accounting software solution is that you can view customer's outstanding balances without manually tracking who hasn't paid.

Set clear payment terms

It's essential you have discussed the payment terms with your customers in advance of the service being delivered and to clearly state the terms on your invoices. This way, you and your client will be on the same page regarding your payment policy, the due date, and the penalties for late payments. Keep in mind, stating these terms in advance can avoid confusion down the road.

Enforce late penalties

To encourage clients not to miss any payment deadlines, consider imposing a late payment fee. Late payment charges can be an eye opener for slow paying customers and sends a message that this behaviour is not acceptable to your business. If you do impose late payment fines, make sure you have discussed the policy with your client before you start working with them. Ensure that the policy is fair as you want to maintain a good working relationship with them.

Offer incentives for early payments

Offering small discounts to customers for settling early payment can encourage them to always settle invoices ahead of the due date. For example, you can offer a discount of 2-4% if the payment is made within 10 days of receiving the invoice. The cost advantage will encourage customers who are looking to save money.

Automate your invoicing process with cloud software

If you are still sending paper invoices, now is the time to switch to an efficient invoicing tool to avoid the risk of invoices getting lost. Customers will have no room for excuses. For a small business owner, time is money. Manual invoice processing is a repetitive and tedious task, requiring you to add details such as the invoice number and date, increasing the possibility of costly errors. Automating the invoicing process with Surf Accounts saves money and time . Customer information such as logo, name, address and phone number need to be added only once. The details, once added, will automatically be included on all future recurring invoices, saving you time and reducing the scope for error. Another advantage of a cloud invoicing software is the ability to generate invoices quickly from any device and anywhere, which can help you get paid faster.

Remember to always be polite

While including pleasantries in your invoice may seem unimportant, they can help maintain and build positive relationships with your customers. For example, phrases of gratitude like "Thank you for your business", "Please pay your invoice within…" can go a long way. Being polite not only increases the chances of getting paid, but it can also positively reinforce future work opportunities with your client.
Getting payments on time no longer needs to be a hassle. These simple points we have covered will help you to get paid on time – making it easier to maintain a steady cashflow. Consider using a cloud-based invoicing software to automate the recurring task, saving you time and keeping steady cashflow.
Related Articles