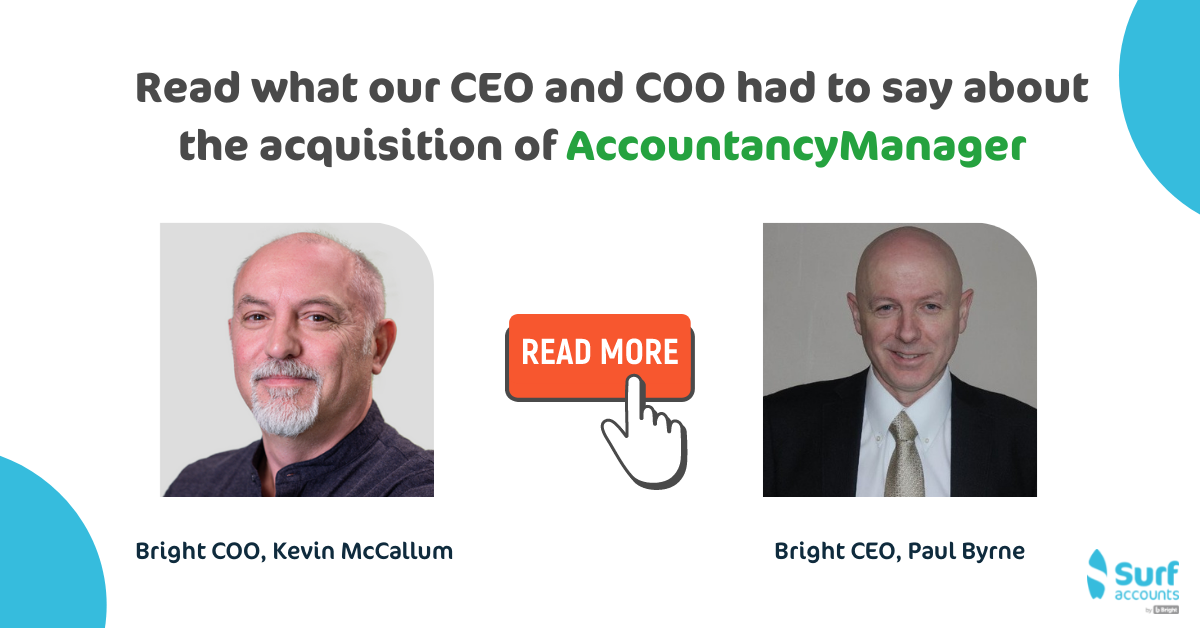 In March of this year, Bright Software Group announced the acquisition of AccountancyManager, a leading provider of next gen cloud practice management software in the UK and Ireland, who offer a multi award-winning service.
How was Bright formed?
AccountancyManager join the ever-growing Bright brand at an exciting time. September 2021 saw the formation of Bright as a result of the merger between payroll provider BrightPay and accountancy corporation Relate Software. BrightPay are a leading payroll provider in the UK and Ireland, while Relate Software, the creators of Surf Accounts, are a leader in accounts production and bookkeeping software.
As of today, Bright's award winning software supports over 7,000 accounting practices and over 30,000 small to mid-sized businesses across Ireland and the UK. Bright has over 200 employees across 4 locations, including offices in Ireland, India and the UK. The company is backed by Hg Capital, a global software investor with expertise in tax & accounting technology businesses, and a strong track record of supporting companies to scale.
Why are AccountancyManager the perfect addition?
AccountancyManager value the customer journey above all else, aiming for their software to simplify the work of their customers, which is what makes them the perfect addition to Bright. Making life easier for customers and providing high-quality software is one of the core values of Bright, and this ideation is already instilled throughout the AccountancyManager service.
Prior to the acquisition, Bright's main products were high quality bookkeeping software, accounts production software, and payroll software. This acquisition expands Bright's product offering, adding a leading practice management software to the mix.
What is practice management software?
Practice management software helps you run your business through creating and managing your and your employee's task lists and automating your client communication process.
AccountancyManager automates the administrative process so that you can save time and focus on other areas of your practice. It offers automated client onboarding, task management, and client communication, along with other useful features such as email templates, internal notifications, profitability reporting, client portals, client interaction timelines, and custom forms.
Follow the link to discover more about AccountacyManager's practice management features
The addition of AccountancyManager allows Bright to provide accountants, bookkeepers and businesses with an end-to-end suite of award-winning software, positioning Bright as a one stop shop for accountants.
What does this merger mean for the structure of Bright?
Before the acquisition, Paul Byrne held the position of Bright CEO, and will remain in this position. Speaking about the merger Paul said:
"I have been very impressed with the product offering and the reputation of AccountancyManager and I am delighted that they are joining forces with us. Our respective businesses share the same philosophy; placing the customer journey above all else. Together, we will be well positioned to make that journey even better. I am also delighted to welcome Kevin and James to our highly talented leadership team."
James Byrne, Co-Founder of AccountancyManager, will continue as a shareholder in the combined group and will remain involved with the business as an advisor to the Bright board. Commenting on the merger, James said:
"AccountancyManager recently celebrated its fifth birthday, and I'm incredibly proud of everything we've achieved in this time, for our team but equally importantly for our customers. As we go forward with the full support of Bright, I'm excited for the future of AccountancyManager, the additional capabilities and solutions we'll be able to offer, and the genuinely positive impact we will be able to make."
Kevin McCallum, CEO of AccountancyManager, will become Chief Operating Officer (COO) of the new, combined group as well as continuing to manage AccountancyManager, working closely with Bright CEO, Paul Byrne. Speaking about the merger, Kevin said:
"AccountancyManager joining Bright makes so much sense for many reasons, but for me, the shared values and customer-centric approach are the most compelling. I'm excited to be joining Paul and the wider Bright team in building out the scope and scale of our business and supporting more and more accountants and their clients."
The future of Bright is exciting, with the group now offering leading software in payroll, bookkeeping, accounts production, practice management, and more. The addition of AccountancyManager comes at an exciting time and allows Bright to offer an even stronger service to customers. From the Surf side, we would like to extend a warm welcome to everyone at AccountancyManager.
If you would like to learn more about the future plans of Bright, why not watch our recorded webinar where Bright's CEO and COO discuss this? Watch 'The Future is Bright' webinar here.
Related Articles