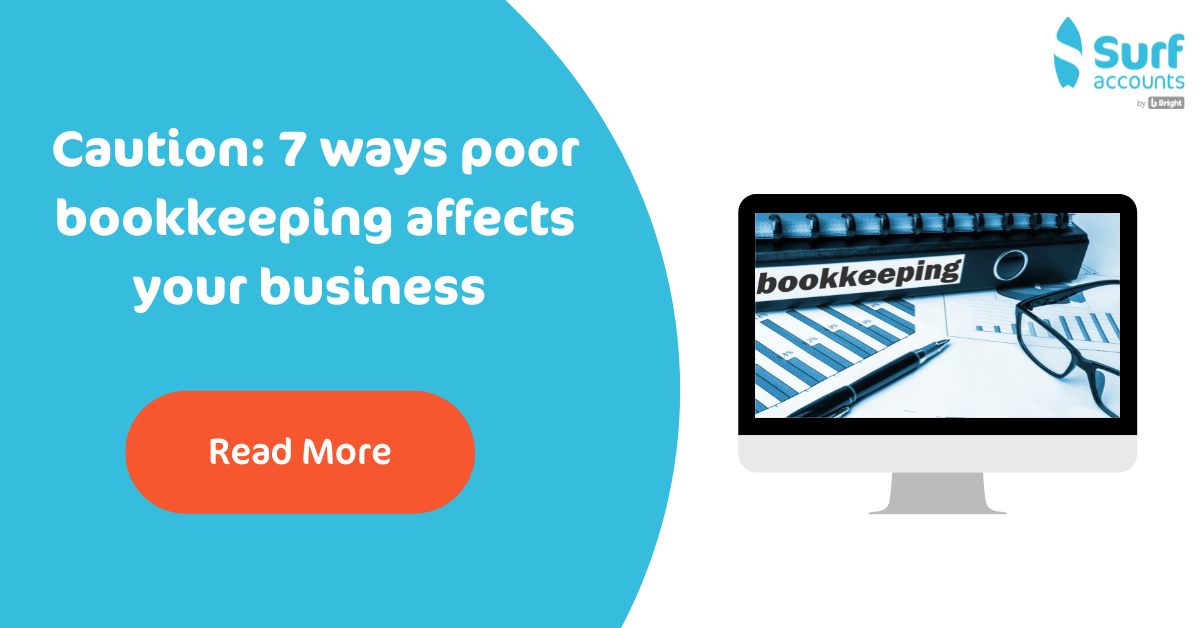 The effects of poor bookkeeping and accounting processes are often felt by business owners but not fully understood, despite the critical consequences it can bring. Failing to implement a step-by-step invoice processing system or using a bookkeeping software to help, can lead to some, if not all, of the following problems:
1. You may incur cash flow problems
Failing to accurately track your books will inevitably lead to cash flow issues. For example, your days payable outstanding may drag out longer than expected as manual invoicing is a slow and time-consuming process. This could then lead to your credit falling, a rise in account overdrafts, or your cash flow drying up.
2. Future planning is impacted
Poor bookkeeping can make it very difficult to plan for the future. Without a full record of your cash inflows and outflows, you cannot set accurate goals and strategies for the future.
3. You may miss tax deadlines
Poor bookkeeping can negatively affect your ability to meet deadlines. Unorganised record-keeping can lead to last-minute panic sorting through receipts and expenses, which could end up causing you to miss the deadline. This could, in some cases, result in a fine or audit.
4. You may overspend
Without an effective bookkeeping system in place, it is easy for businesses to overspend. You may believe you have more money available than you do, and approve unnecessary expenses or expenses which could be pushed to later in the year.
5. You may be undercharging
Failing to track your expenses and costs accurately is a sign of a poor bookkeeping system. By not recording your costs correctly, you may end up setting your final mark-up price too low and could end up having lower profit margins than expected.
6. You may be liable to fees
If your books are not in order, you will inevitably be hit with additional fees. Bank charges such as interest on overdrafts are possibilities, as are late fees with vendors and lenders alike. Additionally, poor bookkeeping can make it difficult to be fully compliant in areas such as tax, which could result in additional costs.
7. The invoices you create may be incorrect
Invoicing correctly is fundamental to any business. It can be a complex business function, where you have to take multiple things into consideration. With poor bookkeeping, you could miss invoices, miss key information on the invoices, or miss errors in pricing or payment due dates, which could lead to you failing to get paid on time. The good news is that you can use invoicing software to ensure data accuracy, and to automate many of these tasks.
How can you improve your bookkeeping?
So, now that you understand some of the effects poor bookkeeping can have on your business, you may be wondering how you can improve your accounting and bookkeeping processes. The best way to do this is to ensure your accounts software is up-to-date, efficient, has all the capabilities your business needs, and offers additional features which your business can benefit from. For this, the best option is cloud bookkeeping software, Surf Accounts.
Surf Accounts is an easy-to-use accounting software which allows you to create stylish invoices, manage your sales pipeline, diary and activities, and produce reports and bank reconciliations in seconds. With additional key accounting software features such as online payments, multi-currency, SEPA payments, CRM, and much more, you can rest assured that Surf Accounts will be the best software provider for your bookkeeping duties.
Of course, being told about how good a product is not the same as experiencing it yourself. With that in mind, Surf Accounts offers a 30-day free trial, with no credit card required, to let you experience the software for yourself. Alternatively, Surf Accounts also offers free live 1-to-1 demos to let you see the software in action.
Related Articles