Let us hear the story of Matt and Henry, the owners of a brewery which is 8 years old. They started the brewery to become one of the top five breweries in the city in terms of customer loyalty, revenue and profits. They worked hard and the brewery grew over time. Sales, customers and the number of employees increased but so did the expenses and overheads. But after 8 years, they find themselves behind from their goal by a long distance. After a review, they find themselves not having answers to stuff like "Which brand of beer is sold the most and the least?", "How do we get more returning customers?", "Which are the expenditure heads?", "Why do we rarely have enough money to reinvest in the business?", "Where does the money go?".
Enter Accounts Categorisation
If your story matches that of Matt and Henry's, then your business finances need organisation, also known as accounts categorisation. All transactions such as sales, bank interest income, investment income, purchases and distribution and administrative costs are grouped under a category known as Accounts Group. Each Accounts group again has multiple subcategories known as nominal codes. All transactions are recorded under their respective nominal codes. For example, Beer sales are recorded under the Sales 001 nominal code and cost of raw materials is recorded under Purchases nominal code 112. All transactions are accumulated under the Chart of Accounts which provides a summary of the financial condition of the business.
A strong case for an accounting software
Performing accounts categorisation manually is error-prone and not feasible, especially when both your business and transactions are growing. You need a specialised system such as accounting software to handle your accounting. All that you need to do is to enter the transaction details and it takes care of the rest.
Account categorisation benefits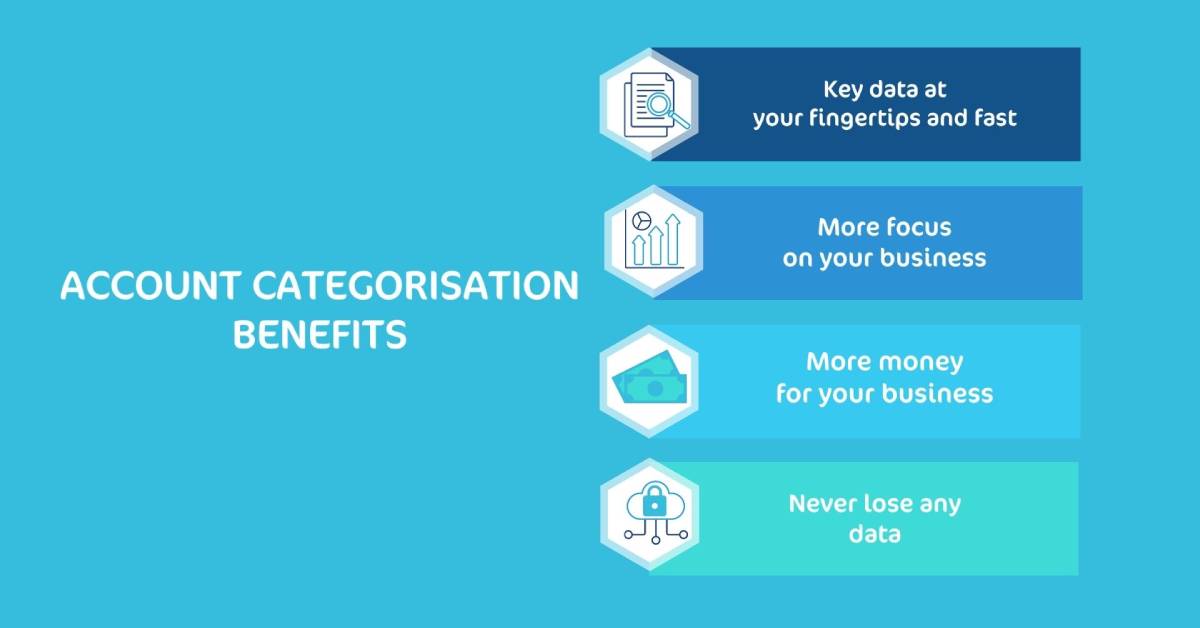 It can change how you run your business. Consider the following benefits.
Key data at your fingertips and fast
Product-wise sales; hour-wise customer billing; outstanding customer balances; period-wise sales; profit and loss. Any key data served in seconds and a visually appealing format or template, error-free. Specify your criteria or filter and the report is generated in seconds.
More focus on your business
You need to find more time to drive your business in the direction you want and not spending time in tracking expenses or worrying over more mundane matters. Let your accounting software do that for you.
More money for your business
In the middle of trying to figure out where all the money has been going, you might have wanted to invest more money in your business. Account categorisation will find the channels and ways the money was being wasted and you can channel them back into your business.
Never lose any data
Accounting software systems keep your data secure. Many systems host your data in the cloud with reputed service providers hosting your data. So, you get more peace of mind and focus on your business.