Practice management is one of the most important aspects of any accountancy firm. Whether you're a small firm with only a few employees, or a firm growing exponentially, having the right practice management software will help you to stay ahead and create a better client experience.
It's vital for firms to find a solution that effectively manages and automates the back-office process of running an accounting practice. By automating time-consuming and repetitive tasks, accounting professionals, CPAs and bookkeepers can make better use of their time.
Accounting practice management software allows you to stay on top of client communications, time tracking, accurate billing, invoicing and more. Looking for a good practice management system can be challenging because there are a lot of options. However, a software which incorporates these 6 key solutions might help the decision-making process.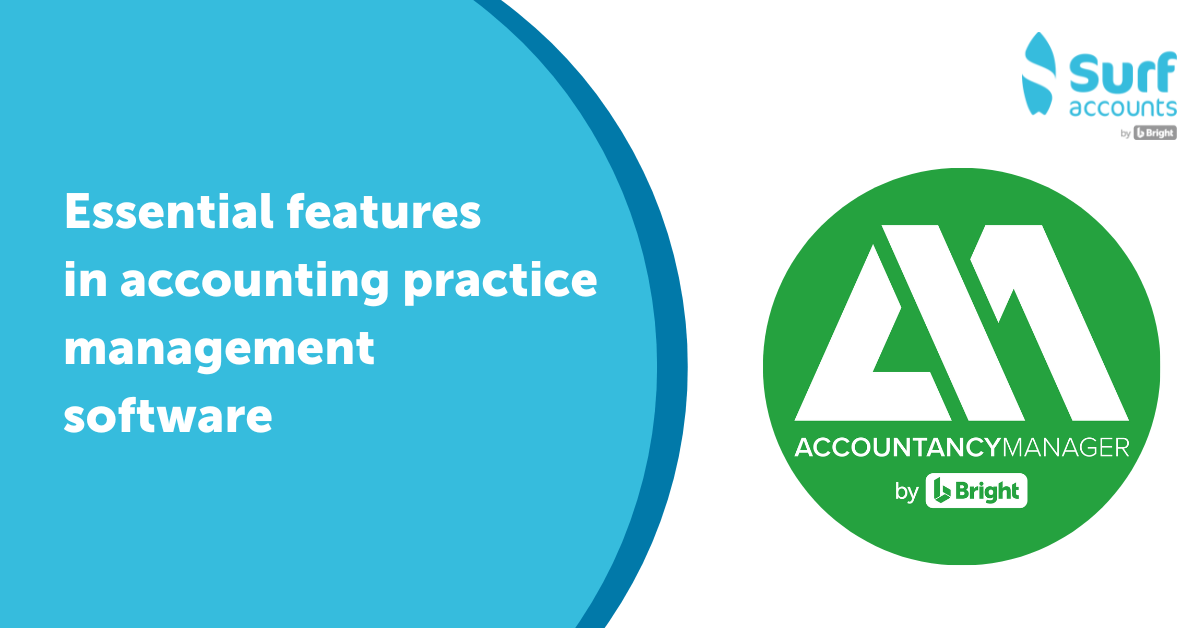 1. Task and project management
Managing tasks is an essential feature of any practice management system. A good software will help users to optimise the overall task management process from planning to delivery. That means you can track time, maintain time sheets, calculate actual billable time, assign jobs to staff, and set task deadlines. It also involves organising the workflow to assign tasks appropriately.
You don't always require a separate task management system to handle project tasks. For example, AccountancyManager's practice management tool allows you to assign and manage tasks, whilst automating the whole process. That way, you can keep all your project briefs, updates, deliverables, and communication in one place.
2. Document management
Accounting firms handle a vast amount of clients documents which often include sensitive information. Some of the popular document management systems such as Box, Dropbox and Google Drive are widely used by small businesses for content management. But for accounting practices, having a client portal gives your clients easy and secure access to all documents in one place. Storing your firm's documents in one location saves time and increases productivity. You can also create custom forms that your clients can complete online.
The portal allows you to communicate with clients without having to meet in person. Facilitating remote working saves time for both accountant and client. The document management functionality is also a fast and easy way to obtain e-signatures.
3. Workflow process
Do you currently have any process in your business to manage your workflow? If you decide to make an automated workflow transition, you can reap the benefits of the saved time on repeatable steps. AccountancyManager's workflow tool allows you to easily track your firm's projects. The main benefit of this feature is streamlining the whole task management process internally and distributing tasks evenly among team members.
When choosing a workflow management solution, consider a user-friendly system that can automate processes in your firm and has the capability to manage tasks.
4. Client management
Client management centralises all your client's data in one place – client directory, contact info, prospective clients, invoices (sent, signed and unsigned), documents and all communications. The client management feature in AccountancyManager allows your clients to access documents you share with them and sign any documents electronically. You'll get a notification when your client adds, downloads, completes or signs a document. The portal also acts as your own internal filing system.
5. Time tracking
If you have a team of any size, it is necessary to track working hours to identify which clients and team members are generating the most profit. Another important aspect of time tracking is the recording of the total hours spent working on each client's account, which allows you to create instant and accurate invoices.
If you don't bill by the hour, then you can just use this feature as a rough guide on how much time your team spend doing tasks. Take a look into AccountancyManager, the practice management solution, that can manage all of the above aspects.
6. Invoicing
For a client centric accounting practice, it is important to accurately bill your clients for the services rendered. Practice management tools that can turn logged time into invoices in a couple of clicks automate entering tasks into invoices are the best option for accounting firms.
AccountancyManager helps you turn your tracked time into invoices and create instant customisable invoices from work in progress. The software also allows you to identify which clients are generating most profit and pinpoint areas of improvement. AccountancyManager also integrates with Xero and Quickbooks, allowing you to sync your invoices across both software.
Bottom line
A practice management system is vital if you want to effectively run your accounting firm. It helps to easily manage day-to-day activities, automate tedious tasks and keep your clients and team organised. Choosing the best accounting practice management software can save you time, money and help you scale your accounting practice.
Interested in a learning more about a quality practice management system? AccountancyManager is built to keep an eye on productivity and track profitability. Book a free demo or start your 30 day free trial to learn more about AccountancyManager and the benefits it can provide.