Surf Accounts Production has introduced new features to its accounts production software package over the last few weeks. Surf has continued to evolve throughout 2022, developing and improving the user experience. As we enter the new year, we will be progressing further with the product roadmap, monitoring and implementing customer suggestions and feedback.
Recently, Surf Accounts Production added two new stand-out solutions, along with other minor fixes to its platform. The Fixed Asset Register is now fully functional within the accounts production software and Surf has also introduced its very own interactive help guide, which can coach users through the system.
Let's look at the two features in more depth.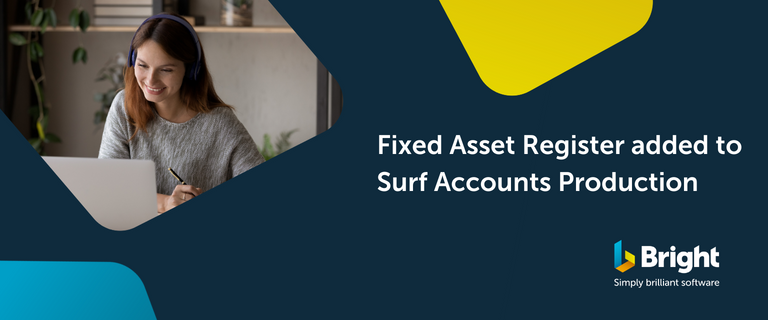 Fixed Asset Register
The highly popular Fixed Asset Register feature, which was present in Surf's predecessor, Relate Accounts Production, is now fully functional in the cloud accounts production software. A Fixed Asset Register is a detailed listing of every fixed asset that has been acquired or built by a business. And now, you can view and create new fixed asset items under the predefined asset types from the Fixed Asset Register menu in Surf.
The software will allow you to view, add, calculate, and print your Fixed Asset Register within Surf Accounts Production, making it easy to keep your books up to date. Check out our help guide, with step-by-step instructions on how to use this new feature.
Surf Accounts Production's new help guide
Have you ever been unsure of what the next step is or what a particular feature does? With Surf Accounts Production's new help guide, you can get more contextual information on what a certain button does. This is an easy way to discover new features and learn more about the system.
By turning this solution on, you will be able to get a step-by-step instruction of how to use certain solutions and navigate through the software. This new feature is perfect for new users and those of you who are still learning how to use the system. Follow our help guide in Surf Accounts Production for further information on our new interactive solution.
More updates to come
The Surf product will continue to improve and create an even more user-friendly software package as we enter the new year. With plans to add more features to the software, now might be the time to take a look at the software in more depth. Book a demo here.
Winter showcase
Did you miss the first half of Surf's winter showcase? Don't worry you can catch up on all four online webinars, with hot topics such as data extraction, time management and how you can create an end-to-end solution in 2023.
You can also register now for the winter showcase finale.