In exciting news today, Bright have announced the acquisition of BTCSoftware. BTCSoftware offer multi-award-winning tax software solutions which help accountants to streamline and simplify tax and compliance work. They develop feature-rich and cost-effective software products that make life easier and more rewarding for accounting professionals.
This development is the next big step in Bright's mission to streamline business processes for accountants and businesses, by delivering excellent products that enable automation and integration of core business sectors and functions. This mission is underpinned by offering world class support, a common philosophy which unifies all of Bright's software solutions. This focus on serving customers above everything else, makes BTCSoftware a perfect addition to Bright, as they pride themselves on their highly rated, responsive customer support.
We're rebranding!
Same great products, Bright new brand. To coincide with the acquisition of BTCSoftware, we are launching a new brand identity for Bright, which we can use to better communicate who we are and what we offer. With fresh colours, a new logo, and an updated website experience, our new brand forms a coherent, integrated solution, which speaks to the vision of the company.
Why have we rebranded?
Since forming in 2021, Bright has brought a wide range of products together, and in doing so has integrated teams from Ireland and the UK. Bright's software solutions, including BrightPay Payroll Software, Thesaurus Payroll Manager, Surf Accounts Production, AccountancyManager, and now BTCSoftware give us the ability to offer accountants a fully comprehensive solution to their needs. While this range of products, expertise and support, allows us to combine the strengths of each brand, it also requires us to create a more unified voice in order to position ourselves as a one stop provider of software solutions for accountants and businesses.
With the launch of Bright, our new logo, and our new website, customers can find all our products under the one name and location. Customers will still see familiar product logos but should in time become used to seeing 'Bright' appear more often, reflecting our future plans.
Visit our brand-new website
Bright's new website is now live! Click here to see our new website and explore all our Bright products, as well as to access topical industry blogs, helpful guides, and upcoming and on-demand webinars.
Don't worry, the Surf website isn't going anywhere just yet. Moving all our content and resources to the new website will be a gradual process. Websites for Surf Accounts, Surf Accounts Production, and Relate Software will stay live for the foreseeable future.
Check out Bright's new podcast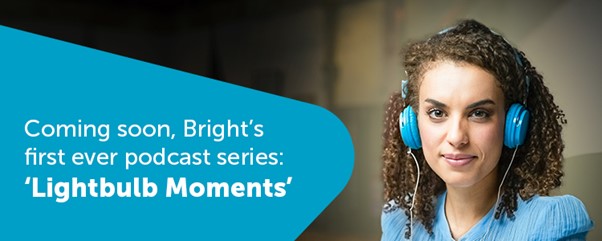 In other exciting news, Bright is introducing its first podcast series, Lightbulb Moments, which features disruptors and thought leaders from the accounting industry, revealing the bright ideas that gave them the power to switch things up for their business, practice and clients.
Register now for our first podcast Lightbulb Moments Episode 1: what innovations are on the horizon for accountancy?
How will Bright's rebrand impact the Surf products?
The Surf product range will continue to operate under the same high standards and visual look that customers are familiar with. However, as Bright continues to value its customer-centric approach along with additional capabilities and solutions each product will be able to offer, Bright can only have a positive impact on the Surf products. Further solutions and improvements are already scheduled to be introduced throughout the Surf products as the year progresses.
Related Articles