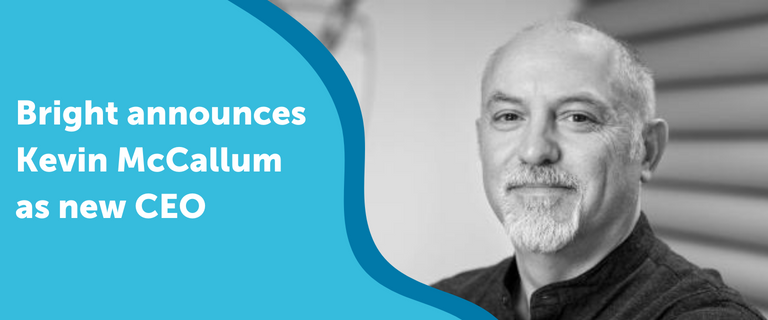 August 2022 saw a big change for the leadership of Bright, with Kevin McCallum chosen to be the new Chief Executive Officer with immediate effect, and current CEO Paul Byrne stepping up to the role of Founder Board Director. Paul has been CEO of Bright (and formerly Thesaurus Software) for the last 32 years. Bright was formed in September 2021, following the merger between Thesaurus Software and Relate Software. Under Paul's leadership, the company has grown rapidly, expanding further in March 2022 with the acquisition of AccountancyManager.
Bright now enters a new era as Kevin will now assume responsibility for the overall strategy and continued progression, while Paul will continue to support the team in his new role.
Speaking about the news, Kevin McCallum said:
"Since joining Bright earlier this year, I've been consistently impressed by the whole team and our shared passion and vision for the future of the accounting industry. We have such talented people across the whole group, working to build, deliver and support our best-in-class software solutions, allowing us to become the go-to solution for the accounting industry across the UK & Ireland."
Kevin also acknowledged the fantastic work of Paul Byrne over the last 32 years:
"Having originally founded Thesaurus Software, a mere 32 years ago, it is hard to overstate the importance of Paul's role in getting Bright to where we are today. So much of what makes Bright a great business to work with is down to Paul, as is the fantastic opportunity we now have to create something very special for our existing and future customers. I'm also delighted that Paul will continue to be involved with the business on an ongoing basis."
Commenting on Kevin's appointment, Paul Byrne said:
"Kevin joined us as part of the AccountancyManager acquisition and since then both myself and the board have been very impressed with his knowledge, energy and experience. As the company continues to grow, I'm confident that he is absolutely the right person to lead Bright on the next stage of our journey."
About Kevin
Kevin has over 20 years of experience in the accounting software industry. He spent 11 years at FreeAgent, having joined in 2010 as Business Development Director. In 2017, Kevin became FreeAgent's Chief Commercial Officer and played a significant role in their shift to working with accountancy practices and the initial partnership and ultimate acquisition of the business by NatWest in 2018.
Kevin originally joined the AccountancyManager team in March 2021 as a non-executive director and later became CEO in November 2021. Kevin joined Bright following the acquisition of AccountancyManager, initially taking up the position of Chief Operating Officer.
About Bright
Bright is home to award-winning payroll, accounting, practice management, and HR software.
For your payroll software needs, discover BrightPay.
For your bookkeeping and accounts production needs, discover Surf Accounts.
For your practice management needs, discover AccountancyManager.
For your HR software needs, discover Bright Contracts.
Related articles: