The core responsibility of the bookkeeping process is to provide accurate and current financial information about a business, be it your own, or a client's. There are many tasks that bookkeepers must complete, some of which can be quite time-consuming, especially if they are to be completed manually. Such tasks include data entry, managing accounts receivable and payable, preparing monthly reports, and completing bank reconciliation. While bank reconciliation can be a tedious and time-consuming task, it can thankfully be simplified by using an accounting software.
What is Bank Reconciliation?
Bank reconciliation is a process that must be completed by every business. It involves comparing your accounts against your bank statements. This helps to check bookkeeping accuracy and ensures that both sets of reports agree with each other.
You may be asking why you need to compare your bank balance against your accounting software's end balance? The simple answer to this question is to ensure that both accounts match. By completing the bank reconciliation process you will be able to locate and amend errors which may have occurred during the bookkeeping process, catch incorrect payments, missed payments, prepare for tax returns, and acquire a clear view of how your business is performing financially.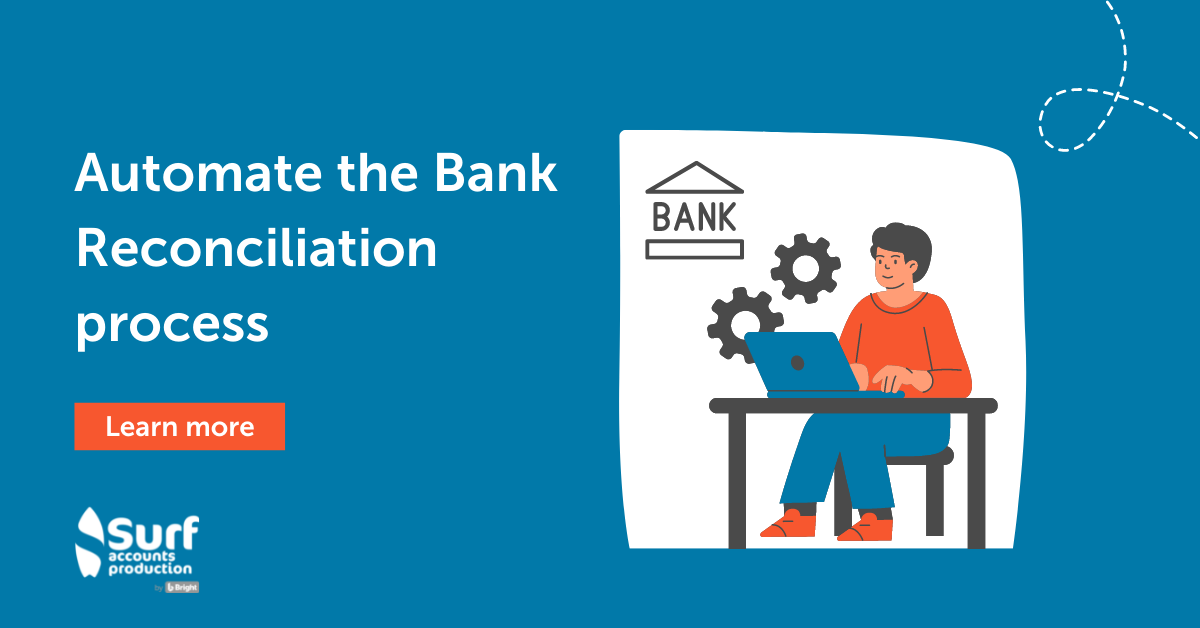 The problems of manual reconciliation
Manually completing bank reconciliation can be a time-consuming task. We have all been there – spending hours running through bank statements checking income, monitoring expenses, and hoping to have a matching end balance. Unfortunately, it's not uncommon for the two accounts to not always match and as a result, you may have to spend extended periods of time identifying and amending your statements until they are equal.
It is recommended that bank reconciliation is carried out every couple of weeks or on a monthly basis. Ideally, every time you receive a bank statement. This can end up taking a large chunk of time for businesses. However, thanks to cloud accounting software such as Surf Accounts, you can automate the entire process of bank reconciliation.
The core benefits of Automation
With a cloud-based accounting software you have the ability to automate the bank reconciliation process. The software allows you to connect your bank accounts directly to the system, meaning your transactions can be automatically imported from your bank accounts directly into Surf Accounts. Not only that, but you can automatically generate the bank reconciliation statement within minutes. Our software also allows you to catch up on missed reconciliations quickly, with the ability of reconciling large number of transactions quickly. This is a huge time saving feature that allows you to complete the process much quicker and allows you to focus on other important tasks.
Surf also offers the ability to reconcile on the go, thanks to the Surf Accounts mobile app. Yet another solution that saves time and allows you to stay in complete control of your business.
Next Steps
Surf Accounts bank reconciliation feature is just one of many accounting solutions provided by this software. The bookkeeping package can be added to the accounts production software at a discounted price or can be acquired separately. If you would like to explore the bookkeeping software further, and explore what Surf Accounts has to offer, you can book a free, one-to-one demo with one of our product experts.
Related Articles