In the face of increasing competition in the accounting industry, it is important for accountants to look for new ways to grow their business and stay ahead of the competition. Every firm needs to take time to consider their position, their goals and if and how, they want to grow their accounting practice.
Unsurprisingly, managing your firm's growth isn't always easy or straightforward. It's often a struggle to find time to pause and strategise ways to develop your brand and scale your practice. Strategic planning isn't something you can do during your spare time. If you want to prevent roadblocks down the road and increase profits, you'll need to take the time to develop a robust growth strategy.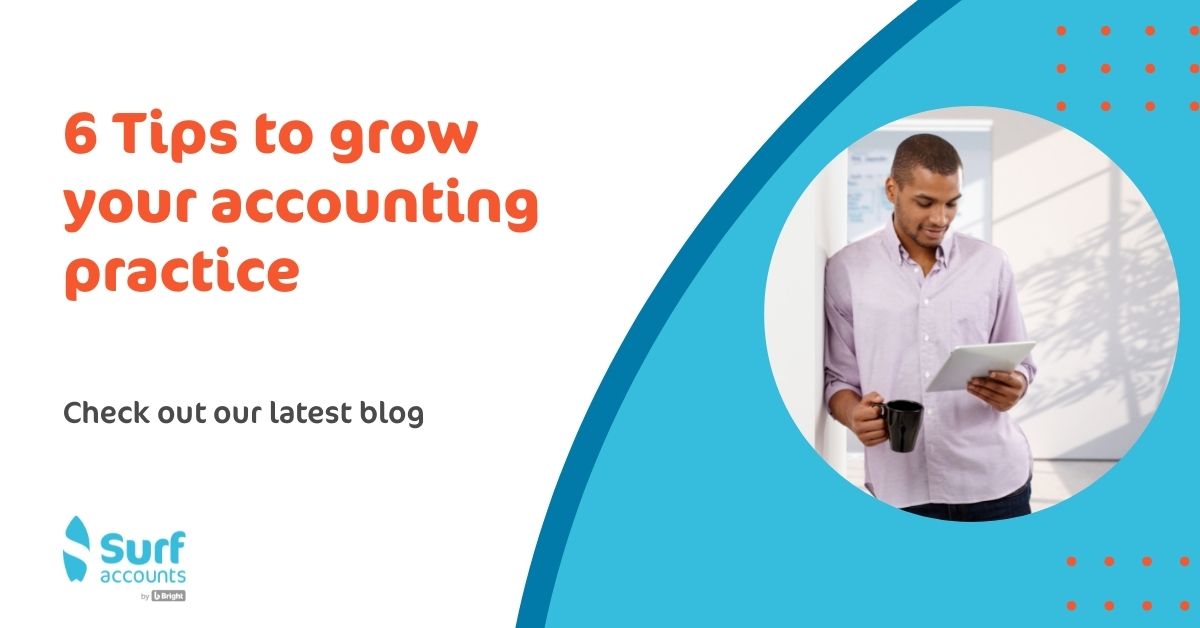 Here are six effective ways to grow your accounting business
1. Grow your communication strategy
Marketing isn't a one-time investment in a business. To connect with new clients and to maintain your existing client base, you will need to consistently focus on your marketing efforts. Many of your existing clients may have long term relationships with you, but don't overestimate your customer's loyalty. Other factors such as price, quality, and presence could tempt existing customers to switch. Focus on marketing strategies that involve communications, pricing and value-added service. By formulating these strategies, you should be a step closer to achieving your objectives.
When developing your communication strategy, consider its purpose, what you want to convey and how. This will require you to research the needs and interests of your targeted clients. By being specific with your message, the content you create will explain what advantage your accounting practice will bring to clients.
Choosing which communication channels you want to use is important. Different messages may suit emails or WhatsApp messaging, while others will require phone calls, face-to-face meetings, or virtual events like webinars.
In the digital world, developing a website plays an essential role. It's important to include a search engine optimisation (SEO) and social media strategy in your communication campaigns. SEO will help you to rank your website for relevant keywords, while a robust social media presence will help you to increase your reach to your targeted audience. Of all the social media channels out there, it's important to analyse each channel's relevance to your target audience, to ensure you are reaching the correct people.
2. Get more reviews
Reviews have more influence than you think. Ensuring you have a strong review presence on your own website as well as on third party websites is extremely important. According to research, 90% of customers read reviews before engaging with a business. Consumers are interested in reading about the experiences and problems customers have had, and how you responded to them. Seeing positive reviews beside your business' name can help to push a consumer to take action.
With many review websites to choose from, here are the top three sites you should focus on for your accounting practice:
Google – Google is the most important review website as it is the most used search engine in the world
Facebook – Facebook remains the largest social media platform. For your practice, Facebook can be a good source for receiving new and prospective client enquiries
Trustpilot – Trustpilot is considered as the most powerful review platform.
Client reviews can do wonders for your business as it is one of the most effective customer acquisition strategies. Getting more customer reviews may seem a challenging task. However, here are three proven ways that can allow you to generate more reviews:
Ask for reviews from existing clients – You can get more reviews through use of email request campaigns and social media messages. The email or social media message will be simple and will include a link to your review page.
Use customer survey – Surveys are a great opportunity for a business to collect customer feedback. If you get customers to fill out a survey, you can take advantage of this by asking very satisfied customers to leave reviews.
Include a "Leave a review" messaging on print materials – This is a simple, offline method of boosting your reviews. If you use brochures, flyers, catalogues, or produce any other print materials for your clients, you can include a simple message that says "Take a minute to rate and review us on Google".
3. Create a local network
It's likely that you have many potential connections and prospective customers in your network, making it a powerful asset to growing your business. Networking can help you to find new customers to engage in strategic partnerships, and to discover new ideas.
A great way to develop your network and achieve your goals is by connecting with local business groups, attending conferences, speaking at events and building your profile in the market. Developing an online presence can also help. For example, you can join conversations or create thought-leadership posts on LinkedIn. The possibilities are endless when it comes to networking.
4. Get business referrals
One of the easiest ways to acquire new prospects is through referrals from existing clients. Referrals can bring a pool of new clients to your company's table at almost no financial investment. After all, when clients are happy with your services, they are likely to recommend your practice. Once you successfully complete a project, don't be afraid to ask your satisfied client if they know anyone who needs your services.
After winning a referral, it's important to have a strategy in place to approach your potential customer. It is recommended that you reach out to the prospect by phone or with personalised emails. In the conversation, be sure to mention your client's name who referred you.
5. Upsell services to existing clients
A proven strategy of generating more revenue and growing your accounting practice is to upsell additional services to your existing clients. Analyse your client base to find upsell opportunities. Before you attempt to upsell, make sure your existing clients are happy with the services that they're paying for and that they would benefit from the additional services.
Happy clients will be eager to try a new accounting service if it meets their needs. Conversely, if services don't meet your client's needs, they will not want to purchase an additional service. Listening to client feedback will help you find which service you need to upsell and who you should focus your efforts upon.
6. Optimise productivity
Growing your business is exciting, but taking on new clients can be daunting. You need to ensure you can deliver the services while keeping your new and existing clients satisfied. While you may end up needing to hire additional employees to keep up with the work, you should also analyse your current workflow and identify areas that could be improved.
For an accounting practice, to enhance productivity you need to look for ways to optimise efficiency, and streamline manual processes. Cloud based accounting software, like Surf Accounts, helps you to automate accounting tasks, and reduce time and errors. This enables you to focus on increasing your client base. Here are some ways Surf Accounts helps you improve productivity of your practice:
The bookkeeping software allows you to automate recurring invoices and use customisable templates, saving you time and increasing productivity
Surf Accounts' built-in reporting feature enable users to generate financial reports in just a few clicks
The possibilities to expand your practice are endless and are only limited by your business strategies. Give a few of the above strategies a try and see what works. Optimising your firm's productivity is a key part of growing your practice.
Do you want to streamline manual accounting process and increase the productivity of your business? Then Surf Accounts is your answer. Book a demo below.
Related Articles