Accounting is often referred to as the language of business, as it communicates financial information to various stakeholders, such as creditors, employees, shareholders and governmental bodies. It has gone through significant changes over time and has most recently been significantly affected by rapid technological innovation. Technological advancements have made the accountant's job quicker and easier, helping them to analyse data more efficiently.
In the beginning, the Abacus was used as a tool to keep track of calculations. Then, there was the introduction of adding machines, calculators, and of course computers. Each technological advancement has impacted the speed and efficiency of an accountant's job. Despite these many innovations, accountants and bookkeepers still had to keep track of business transactions with paper entry up until the late 20th century and for some, into the 21st. The process of identifying, measuring, recording, and communicating financial information all on paper, was a time-consuming and arduous task. Thankfully, with the application of electronic spreadsheets, accountants moved away from using such manual methods.
Now, with cloud accounting software we are experiencing a further transformation of the sector. Today accountants can process information faster, with greater accuracy and efficiency. Accounting software applications are becoming increasingly automated and integrated, making it easier to perform repetitive tasks in a shorter period of time.
Emerging Accounting Technologies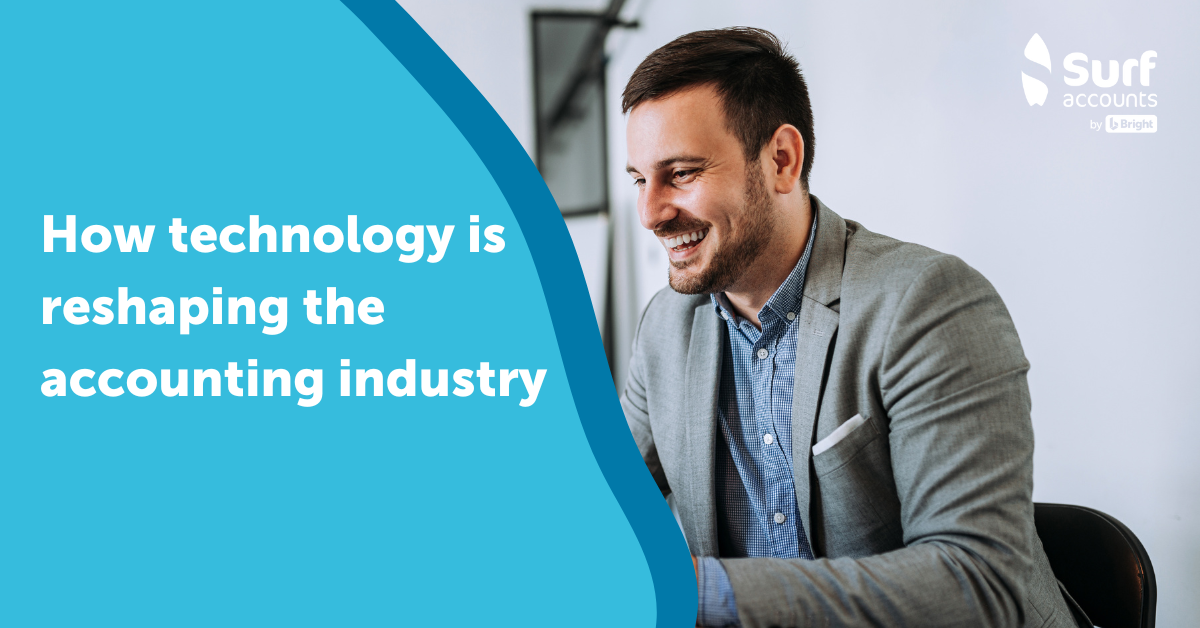 Technological advancements have helped to automate processes, save time and improve the standard of work. It is important your accounting practice is keeping up to date with these advancements to ensure your clients are being offered a high-quality service. Below, we explore five technologies which have impacted the accounting industry
1. Cloud-based systems
The adoption of cloud systems has become extremely popular. Cloud systems make an accountant's life easier, as they operate via the internet. The cloud allows accountants to securely access real-time data from anywhere, on any device and at any time. This ensures you can remain operational, regardless of time and place. A key advantage of cloud accounting software, such as Surf Accounts, is the automatic backup of information, meaning you no longer have to spend time constantly saving and backing up your documents. With Surf Accounts' end-to-end encryption, your accounting data is safely stored on the cloud. This means only you and the authorised users can access your data and no one else.
2. Automated accounting tasks
One of the most notable trends in the accounting industry is the role of accounting automation. With technological advancements in accounting software, accountants no longer need to build complex ledger files. Accountants can automate repetitive and time-consuming tasks such as creating recurring invoices, reconciling bank transactions, generating reports and more.
3. Mobile accounting
Accountants are becoming more dependent on mobile devices to access financial data. Mobile connectivity is the bridge that connects accountants and their clients. Once you set up your clients on a mobile accounting app, they can keep their books up to date, helping you to monitor their cash flow, submit VAT returns, and prepare financial statements.
The Surf Accounts mobile app can help your clients run their business on the go, allowing you to access important information, no matter where you are. Here are a couple of ways our mobile app can help:
Create and send invoices from anywhere
Easily visualise key figures of your client's business
Add new customers and products on the move
Your client can access these accounting solutions with just a couple of clicks, allowing both of you to complete tasks quicker. With the app, they can create and send professional invoices, add meetings and contacts, and create customised reports from smartphones or tablets. Being able to access client data through the mobile app can help you deliver analytical answers to your client when they need them. This will help you to build strong relationship with your clients and potentially increasing customer loyalty.
4. Social media
In the digital age, clients expect to interact with your brand, product, and service across multiple touchpoints. Social media platforms are a communications touchpoint that has become an influential tool for brands wanting to build professional connections with current and prospective clients. It's understandable if you're hesitant using social media, but you shouldn't ignore the tool. Many experts see social media as a powerful tool that will continue to provide accountants with a valuable opportunity to market their business. Social media is important for accountants in order to
Keep up with the changes in the accounting industry,
Connect and build trust with existing clients
Generate new leads for your practice
Become thought leaders in the industry.
5. CRM software programs
Customer Relationship Manager software acts as a central location to manage all business contacts. It is designed to streamline client communications, identify growth opportunities, and improve your customer service. A CRM solution can be a vital tool to help accountants mange their interactions with their customers and prospects, as well as to identify new opportunities in the sales pipeline. The inbuilt CRM system within Surf Accounts allows you to improve business productivity and efficiency by instantly accessing financial and accounting data from a centralised location. In Surf Accounts, you can easily keep track of your prospects, segment your contacts into specific groups and follow up with them. You can also send emails and SMS messages to the prospect or customer.
Final thoughts
Today's successful accountants must embrace new technologies if they want to remain competitive in the accounting industry. Having a smart accounting solution is key to succeeding in today's changing environment. There's no magic wand for selecting the best accounting software for your practice. However, it's worth assessing Surf Accounts which helps to automate accounting tasks like invoice processing, reconciling bank transactions, generate real-time reports and more. Book a demo today to learn how you can automate these accounting tasks and save more time for your practice.
Related Articles: