No matter how productive your accounting practice is, there is always room to optimise your processes to save even more time. One of the most effective ways of improving productivity, is to reduce the amount of time you spend on manual data-entering tasks.
By being a little more tech-savvy, you should be able to use automation to your advantage, allowing you to put more focus on profitable areas of your business.
One of the busiest times of the year is in the lead up to tax deadlines. Having clients dump 6 months' worth of paperwork on your desk is inefficient as well as frustrating. Not only does this create a stressful environment but it can also lead to time spent chasing missing receipts and a delayed understanding of your client's financial position. Thankfully, there is a simple solution to avoid this situation.
The Surf and Dext Prepare partnership could be described as the perfect match for accountants. Both Surf Accounts Production and Surf Accounts hold an integration with Dext Prepare. By connecting your software with Dext Prepare, you will have the ability to collect and extract your client's paperwork and automatically upload it to your accounting software package.
Dext Prepare makes it easy for your clients to submit invoices and receipts for automatic processing, so you have a clear view of your clients' finances in real time. Your clients can use a mobile app to scan and submit receipts at the point of sale or upload invoices to their account. The integration can lead to a seamless process of uploading and sharing information, leading to many added benefits.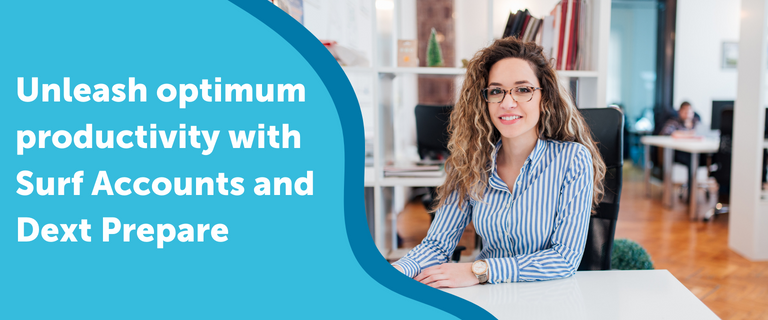 3 ways integrating Dext Prepare with your accounting package can help
1. Proactive Clients
Dext Prepare allows your clients to be proactive and as a result makes your task list more manageable. Clients can submit their invoices and receipts digitally, meaning you no longer need to chase clients for these documents, helping eliminate the prospect of a huge backlog of client records.
With the Dext prepare app, your clients can scan receipts and upload them at the point of purchase. Invoices can also be emailed or uploaded directly, and you can upload multiple invoices through a single document, which the platform can separate for you.
Once uploaded, the receipts and invoices are processed in minutes. This eliminates valuable time spent manually sorting your client's paperwork, reduces errors and allows a much smoother and time effective process.
2. Allow your clients a real-time view of their financial situation
Having up-to-date information is important, as you can offer your clients immediate actionable advice. However, the accuracy of data and keeping up to date with accounting rules and regulations is so important. Businesses are going to have to allow technology such as Dext to help them.
With the Dext Prepare and Surf integration, your clients can forward their receipts and invoices instantaneously, meaning access to up-to-date records, the ability to reconcile every client quickly and improved efficiency.
The integration can help you complete tasks quicker, with some firms taking just 30 minutes each morning to reconcile their clients' transactions from the day before. This allows you to fill in missing paperwork before it becomes a problem.
3. How Surf and Dext save time
Integrating Dext Prepare with your online accounting software creates an end-to-end solution, from receiving paperwork to delivering your clients their final year financial statements. Once you have set the integration up, you can send every expense directly to Surf in just a few clicks, meaning you no longer need to enter the information in manually.
We all understand that mistakes and human error are associated with manual data entry. Fortunately, with the instant flow of information between Dext and Surf, it can not only improve data accuracy, but it also eliminates the hours wasted locating and fixing mistakes.
The extra time you save can be spent in a variety of ways, for example, you can spend more time advising your clients, progressing with other bookkeeping tasks, and brainstorming ways to improve your profit margins.
Don't miss out
Acquiring Dext Prepare along with your cloud accounting software allows you to experience the power of data extraction. The two systems can help to massively improve productivity through your entire accounting practice, ensure accuracy and save valuable time. If you would like to explore how Dext Prepare and Surf Accounts work together, you can register now for our upcoming webinar on September 20th at 11am.
Want to explore Surf Accounts or Dext Prepare further? You can speak to one of our product experts by booking a free one-to-one demo below.
Related articles