Here at Bright, we'd like to wish all accountants and bookkeepers a happy International Accounting Day and Global Bookkeeping Week! Thank you for the vital work you do and the role you play in the business profession.
This week is a great chance to reflect on your work, show appreciation to your colleagues and peers and highlight the important work you do to your clients. This week could also be used to reflect on the processes that worked really well throughout the year and recognise your top achievements.
As we move closer to 2023 and the start of a new tax year, bookkeepers and accountants are already beginning to plan and research how they can improve their service offering. One thing is for certain, automation will continue to have an important role to play in improving bookkeeping operations. In the next section of this blog, we look at three integrations which could potentially take your practice to the next level, and further improve your service for 2023.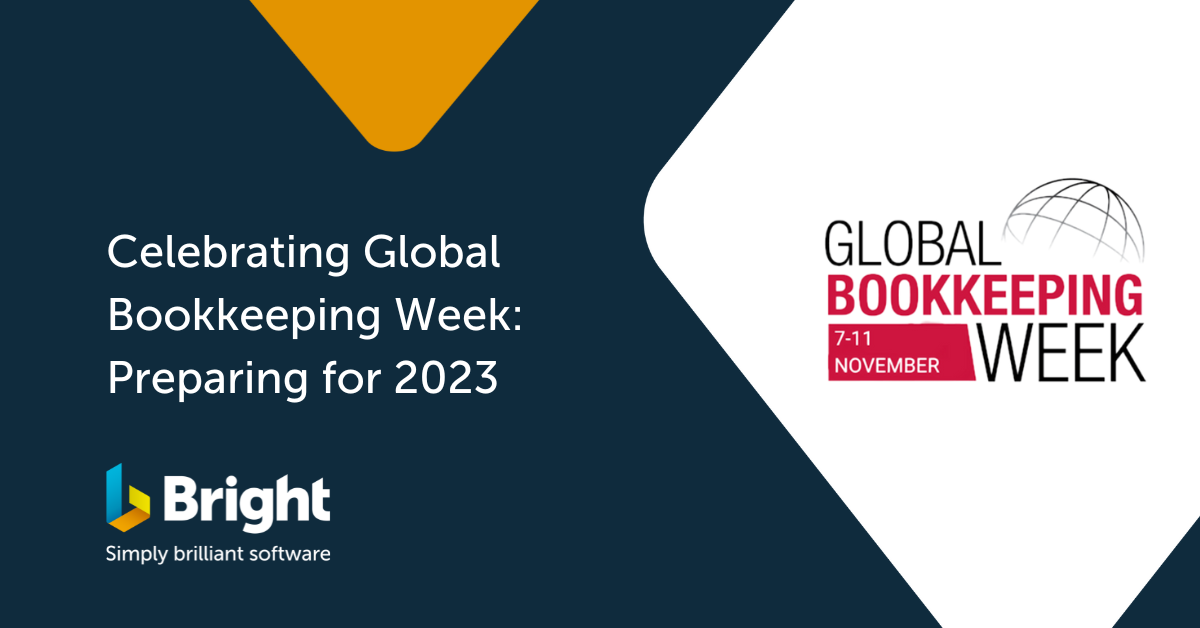 3 integrations to consider for 2023
Data extraction with Dext Prepare
Integrating Dext Prepare with your accounting software creates an end-to-end solution, from receiving paperwork to completing your client's financial statements. The integration eliminates manually sorting through boxes of crumpled up receipts and inputting the data into your software. With Prepare, your clients can simply scan and submit receipts at the point of sale, automatically storing them on the system.
Check out our upcoming webinar all about Dext Prepare and how it works hand-in-hand with your accounting software
Integrate your payroll and accounting software
Integration between your payroll software and accounting platform can help to speed up processes throughout your practice. It can be frustrating manually entering the same data into multiple systems, but thanks to API integration you can avoid this. Using our Bright software products as an example, you can send your payroll information from BrightPay Payroll Software directly to Surf Accounts in a few clicks. This helps to improve accuracy, eliminate errors due to manual double entry and streamline payroll and accounting processes.
Ultimate accounts production and bookkeeping integration
Many software providers ensure that an API integration exists between your bookkeeping software and accounts production system. Accuracy is so important when transferring data between the two systems. API integration can help, but Surf offers a unique solution. Surf Accounts Production and Surf Accounts combine to make one unique platform. Any information inputted to your bookkeeping software will automatically update on your accounts production platform and vice versa. This means there is no need for manual double entry, no need to click buttons to send information over and no mistakes, saving you hours of work each day.
To further explain how the two systems work together, consider this: Users of both Surf Accounts and Surf Accounts Production have a choice as to how they conduct their work for bookkeeping and year-end clients.They can:
Use both packages separately, and the data will automatically transfer from one to the other.
Conduct all their bookkeeping and year-end work from the one combined system.
Final thoughts
Global bookkeeping week is a fantastic opportunity to recognise the hard work you and your colleagues do, as well as being a great opportunity to reflect on how you can further improve operations in 2023. If you would like to learn more about any of the platforms mentioned here, you can book a free one-to-one demo for all our products through our brand-new website.
Keep an eye on our social media for upcoming webinars where we outline automation solutions, top tips from payroll and accounting experts and discuss popular topics. You can also visit our website to view upcoming webinars.
Related articles