How important is your accounts production software to you? It can prove to be pivotal to working smarter, but more importantly, not harder. Its features can offer more than simple solutions to everyday accounting problems. The software can help you stay compliant with legislation, save you time with flexible financial statements, as well as allowing you to work faster with greater accuracy.
As a result, accountants are always on the search for an easy-to-use accounts production system that can help make their lives that bit easier. With such a demand, accounting software providers are continuously improving their software, adding more and more new features. As an accountant, this is a real bonus, as you have more innovative, user-friendly solutions available to you.
Electronic-signature technology (e-signing) is one such addition to accounting software that provides a simple solution to a common problem. The process of acquiring signatures can be a time-consuming task. Without an e-signing solution you may have to travel long distances to your clients, or you may have to depend on a courier service to deliver your documents. Both options can take unnecessary time away from important tasks and cost you money. A simple and effective e-signing solution can allow you to acquire signatures quickly and lead to a much smoother process in completing your paperwork.
Surf Accounts Production is a cloud-based accounts production software that offers a range of key features, which includes e-signing. The software provider has partnered with electronic signing company, HelloSign to bring the first accounts production solution to the market, with in-built e-signing. The e-signing feature helps simplify tasks, as well as saving you time, reducing costs, and improving productivity.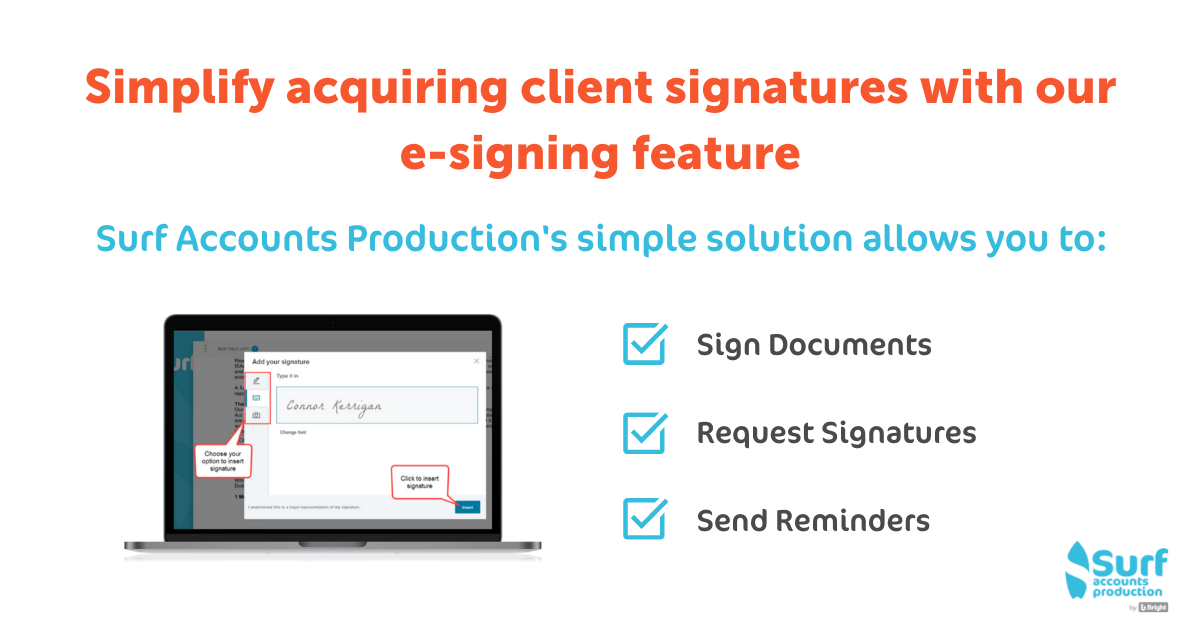 3 tasks e-signing makes simple
Acquiring Signatures

Surf Accounts Production's e-signing feature allows you to request signatures for a range of different documents through the cloud accounts production software. By sending documents to your clients or colleagues via the accounting software, you will reduce costs associated with travel and couriers, and will save valuable time for both parties. This useful feature allows you to send documents through the accounting software and allows your clients to sign the document digitally. You will be able to track the status of your document, whether it's been signed or not, so you can stay on top of your work.

Sign Documents Electronically

Within the accounts production system, you will also be able to sign documents that require your signature with the built-in e-signing feature. This speeds up the process of signing a document, as no printing is required, and the document can be signed within minutes. This leads to colleagues obtaining signatures much quicker, which can improve time efficiency for your entire practice. When signing a document through Surf Accounts Production, you have the choice to draw your own signature, choose one of the ready-made signatures customised to you, or upload a new signature image. This means you will be able to sign your documents quicker, allowing you to progress with more important tasks.

Send Reminders

Once you have sent a specific document to your colleague or client, they may choose to add this to their task list instead of completing it straight away. Managing time for every business is important and the task of signing a document may slip your clients' mind, as they progress with other tasks. Luckily, with Surf Accounts Production's e-signing feature, you will be able to send your client a gentle reminder. Within the software, you will be able to send a text message to your client's phone which prompts them to log in, view and sign the document. This feature within e-signing allows you to remain in control of your documents.
Surf Accounts Production's e-signing feature offers a simple and effective solution to the problems associated with signing documents. This feature simplifies the entire process and allows users of the cloud-based accounts production software to stay in command. The software offers many other features that assist accountants in a variety of areas. If you would like to view the software in more detail and discover more about e-signing and other key accounts production features, you can book a free 1-to-1 demo.
Related Articles