Inventory management is an issue which every business has, irrespective of their industry. Most businesses order goods in and send goods out, which means inventory must be correctly tracked across both streams. It is vital to manage your business' inventory correctly, as it can directly impact your cashflow. If you fail to successfully manage stock, you are putting your business on the back foot with your cash becoming tied up.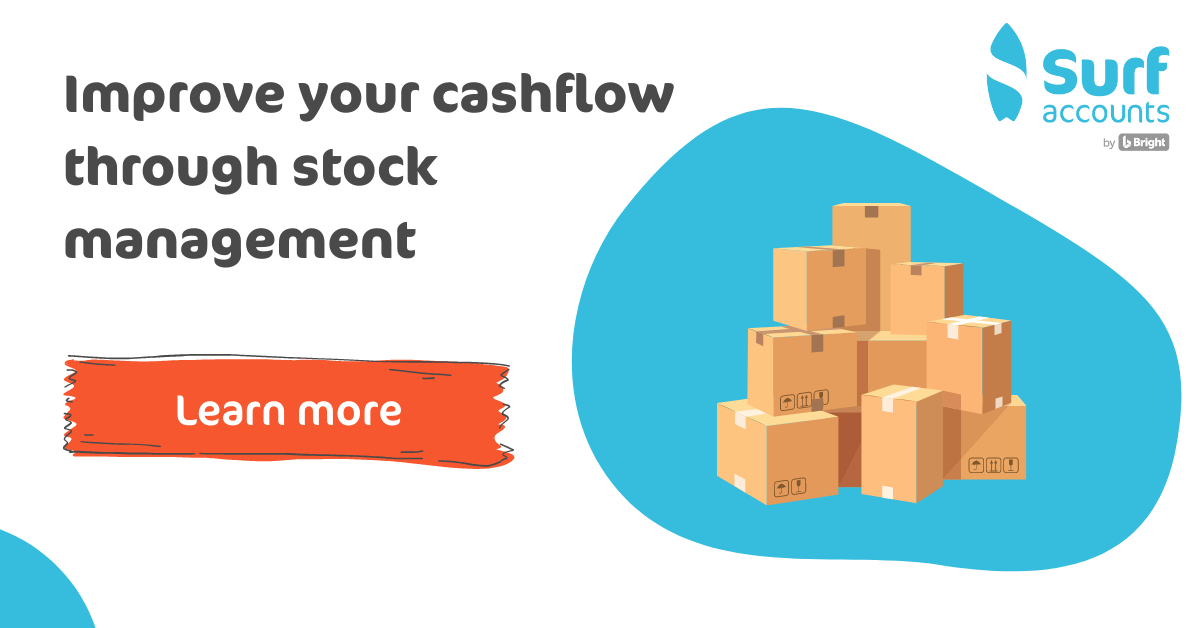 How can poor stock management impact your cash flow?
Poor stock management can lead to unnecessary costs and cashflow problems, with more money going out, than coming in. With poor tracking of stock, you can end up making unnecessary purchases, holding on to stock for longer than expected, and incurring extra costs of storing and maintaining it in a saleable condition.
Of course, mistakes like this can be harmful to a business, and should be avoided at all costs. So, how can you ensure strong inventory management, which accurately tracks all stock coming in and going out?
Traditionally, businesses manually tracked the stock they bought and sold. However, this takes up a lot of time, and human error frequently occurs. To improve this process, many businesses are looking at cloud accounting solutions with an inbuilt stock management system. With such software, you can easily manage your inventory levels, which in turn will impact your cashflow position.
How can an inbuilt stock management system help manage your inventory?
Choosing an accounting system with a stock management solution, not only allows you to effectively manage your bookkeeping responsibilities, but also to accurately manage all your stock. You can easily monitor your stock levels, track when stock was ordered and delivered, and whom the stock was ordered from, or sent to.
Most stock management systems also allow you to run automatic reports to analyse the stock you have, making it easier to view data which can help you anticipate the needs of your customers. Using a solution such as Surf Accounts can help ensure you never mis-calculate your stock again. The accounting software automates the tracking of goods in and goods out, once set up to do so. It also has numerous reports which can be automatically created, such as:
Stock activity
Stock levels
Stock valuation
Stock transactions list
How can strong inventory management improve your cash position?
Correctly managing your inventory generates a healthy cashflow. Ultimately, strong inventory control is one of the best ways to improve profitability. It gives you greater visibility and understanding of the state of your inventory. As such, you're more likely to anticipate customer needs, peak times of the year for when certain stock is in demand, how to avoid a surplus of stock, and how to optimise your finances.
When stock sells, it is hopefully sold at a profit. Therefore, the more stock you sell, the larger your profit will be. However, to continue selling your product successfully, you must ensure that your customers are happy with your service. Strong stock management can help with this. With it, you can anticipate your customers' needs and have the stock your customers want ready to go meaning you are less likely to disappoint them with order delays or cancellations. Delays or cancellations discourage customers from purchasing with you again, affecting your cash income.
How can Surf Accounts help manage your inventory?
By using Surf Accounts' inbuilt stock management system, you can accurately track the orders you make and the stock you sell. The system automatically tracks your goods in and goods out based upon the orders you have coming into and out of the business, once set up to do so. You can set your purchase invoices to automatically add stock quantities to the relevant products, while your sales invoices will automatically take stock quantities away. Additionally, Surf Accounts allows you to easily adjust your stock levels if this is needed.
Follow the link to learn how to set up automatic stock management in Surf Accounts.
Key takeaway
In summary, a poor inventory management system can result in you spending more money than you are receiving, which can have harmful effects to your business. Additionally, it could lead to unhappy customers who may avoid purchasing from you in the future. By ensuring a strong stock management system, such as the one available within Surf Accounts, you can guarantee all your goods in and goods out are accurately tracked. Through this, scope is created to increase your cash position and the profitability of your business by ensuring stock is always available, and customers remain content.
Do you want to learn more about Surf Accounts and its inbuilt stock management system? If so, click below to book a free live 1-to-1 demo of our accounting software.
Related Articles